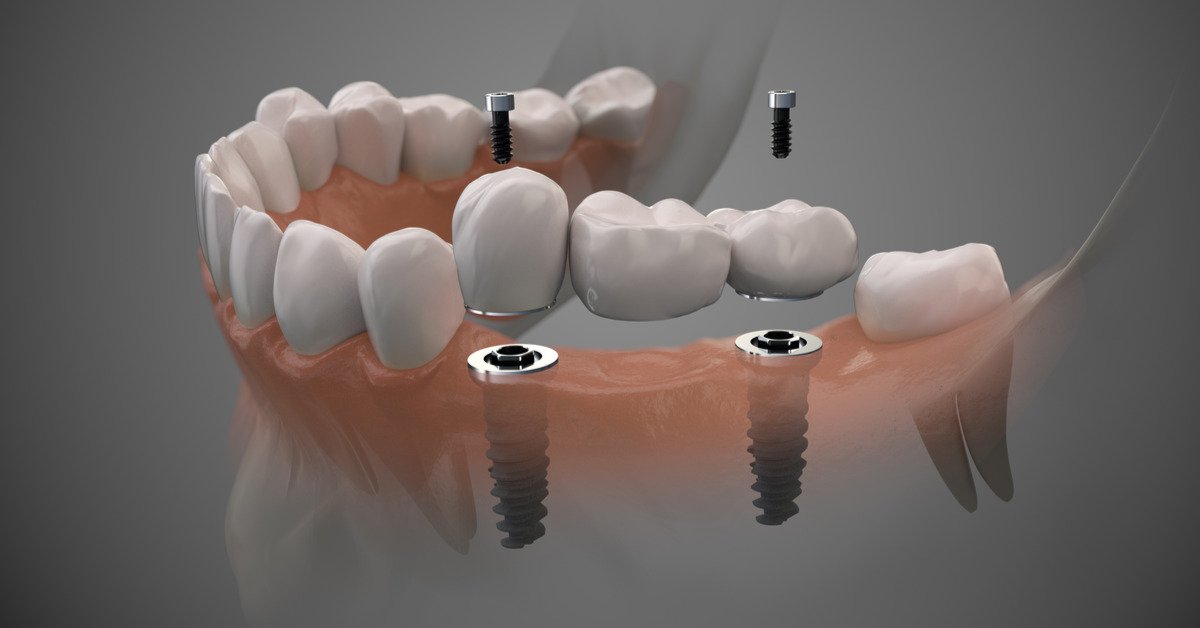 Whether you've experienced tooth loss due to long term issues, or you've had a high-impact accident that has resulted in injury and unrestorable teeth, choosing the best dental implant option for your surgical procedure can be an important and difficult decision.
In our experience from the patients we've treated at NSOMS, the most important factors when deciding where to go for implant surgery are:
The expertise of the best Oral and Maxillofacial Surgeons in New Zealand
Innovative use of the most advanced technology available in Oral Surgery
Simply feeling comfortable, welcome and in safe hands
One of the main reasons we're able to achieve all of these points, and change the typical 'scary and daunting' implant surgery experience to be a positive and easy to understand procedure, is the brilliance of our digital workflow.
Here's how a digital workflow will change your implant surgery experience and leave you satisfied with a comfortable, less invasive surgery - plus, a perfect smile.
What is Digital Implantology?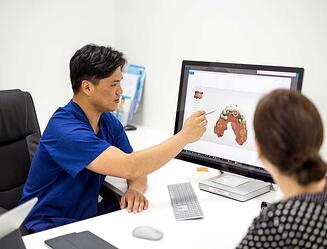 Using modern, state of the art equipment, we're the first specialist clinic in New Zealand to use the combination of an I-CAT 3D scanner to capture the details of your jaw, and an advanced intraoral scanner to capture the minor details of your implants, teeth and gums.
From here, we're able to use digital workflow implantology to get a thorough and detailed overview of the work required to surgically restore any missing or damaged teeth.
Digital implantology allows us to sit with you, talk through the required steps of your procedure, and precisely plan surgery without any guesswork or invasive consultations.
It's leaps and bounds ahead of conventional x-ray technology and is a modern solution that patients prefer.
How does a Digital Implant Workflow work?
A digital implant workflow is the process of virtual planning and precise mapping of your implant surgery, and can be broken down into four, easy to understand steps:
1. Planning
Once you've had your initial consultation and we've completed our 3D scans, our surgeons are able to begin virtually planning out your surgery using computer software technology: 3Shape Implant Studio.
Here, we'll design an implant tooth in it's most desirable position, with the perfect sizing and fit to comfortably replace your missing tooth (or teeth). The best part about this step is you'll be able to visualise exactly what's going to happen during surgery and get a feel for the final product.
2. Fabrication of Surgical Guide
At this point, we'll begin to fabricate a surgical guide using a 3D printer. This will give us a replica of the virtual planning which we'll use during the actual surgery.
3. Surgery
Surgery will be performed using the 3D printed surgical guide. The surgical guide will allow our surgeons to execute the surgery as per virtual planning. The guided surgery not only reduces the surgical invasiveness and duration but will also maximise the safety and predictability of the procedure.
4. Post Surgery Scanning
Digital implant workflow doesn't just stop once your implant has been placed. In selected cases, we perform a post-operative scan immediately after the procedure to give you the tooth on the same day ('immediate loading'). This replaces a conventional impression taking method which requires the application of 'rubbery' material that has to stay in your mouth for about 5-10 minutes.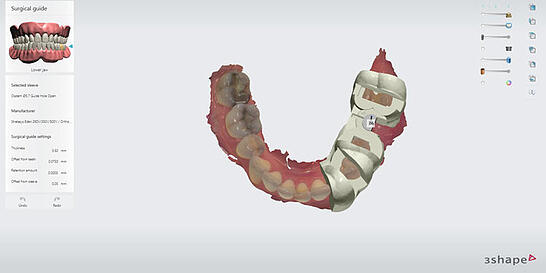 An Improved Implant Surgery Experience
The technical terminology and understanding the process is important for patients, but the underlying most important factor when it comes to deciding who to trust with your implant oral surgery, is the overall experience and care you'll receive.
Digital workflows help us to deliver an outstanding service and a positive experience for you, from the moment you walk in the door, to the moment you leave with a new smile.
Picture this. Thanks to a digital workflow, you'll be able to:
Visualise the exact outcome of your implant surgery and see exactly how the procedure will play out, not on a model, but in your actual mouth in 3D.
Have the experience of a precise, pre-planned surgery where every aspect of your implant and crown has been digitally designed before you walk in the surgery door.
Experience minimal work intraorally, due to the precise nature of digital workflows.
Speed up the duration of the entire implant process. This includes both the planning and the procedure itself.
Walk out of the clinic with a new implant and fixed crown, the very same day.
Your surgery is faster, your implants are more accurate, and you're afforded the comfort of visualising every step of the process, including the final outcome. We think that's a pretty good experience all in all!
Interested in an Implant Procedure?
If this sounds like the kind of procedure you'd be interested in, our digital implant workflow specialist, and NSOMS director Dr. Choi would be more than happy to chat to you about the process.