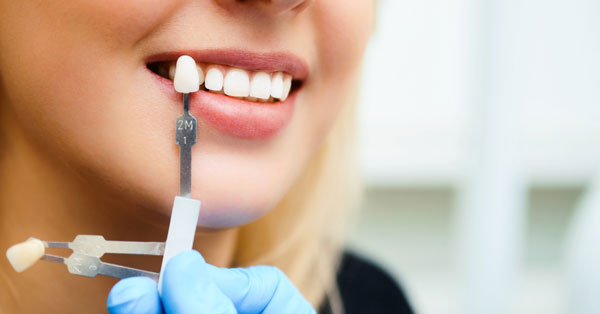 Tooth loss is a fairly common problem that a lot of people deal with at some stage in their life. In fact, you might be surprised to know, in the US, 69% of adults between 35-44 years old have lost at least one permanent tooth. There are a number of causes for this particularly high report of adult tooth loss:
Injury: sports injuries, accidents and falls can cause irreparable damage to teeth.
Clenching or grinding habits: while these can go unnoticed until they result in severe jaw pain, if left untreated teeth may become permanently damaged.
Gum disease: poor dental hygiene can cause gum inflammation, which left untreated can break down gum tissue and loosen teeth. This condition is also known as periodontitis.
Tooth decay: causing the breakdown of enamel, which over time can grow and destroy the whole tooth.
You may come to a point where you know you need to take action to get your smile back - there is a solution.
If you are missing or are about to lose one or more teeth then single or multiple dental implants can be used as a foundation for replacement with crowns or bridges.
What are Dental Implants?
Dental implants are artificial roots that are firmly anchored into the jawbone, with the purpose of supporting a fixed or removable tooth replacement.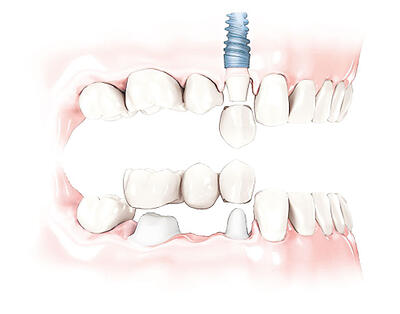 There are two different options available to replace your missing teeth:
Single tooth replacement: using one implant and one crown, this kind of implant will often be recommended for people who have experienced a traumatic injury, or who have lost a posterior tooth from advanced dental decay or an unsuccessful root canal.
Multiple tooth replacement: can be used to replace two or more teeth, using either a single or multiple implants to support multiple crowns or a dental bridge.
Your oral surgeon will be able to examine your teeth and determine which implant type is best suited for your individual needs.
The benefits of single or multiple implants
Opting for single or multiple tooth implants can be really beneficial to patients, and often can solve more problems than one.
Natural-looking teeth: Dental implants look and feel like your natural teeth as the dental implant closely replicates a natural tooth root.
Durable and long-lasting: Dental implants are very durable and are a long-lasting solution to missing teeth. With the correct care, they should last for many years or even for life.
Of course, there are also plenty of health benefits associate with dental implants. Tooth loss can make eating difficult or painful, and lead to a number of issues relating to biting and chewing. Implant treatment is an easy solution to restore your teeth and get back into normal and healthy eating habits.
When missing a tooth, it's also common to experience issues with gum recession and bone loss. Without the usual root structures in place, bone and gum tissue can recede and cause problems with alignment. Dental implants are custom made to fit, and fill the gap in your teeth, reducing the chance of any problems with adjacent teeth.
As implants and bridges are custom made, there is no need to grind down or modify healthy teeth to support a bridge or denture.
As the most trusted and accepted method of tooth replacement by dental professionals for over 40 years, it's hard to dispute the positive outcomes of dental implant treatment.
Are dental implants right for you?
Of course, in order to undergo single or multiple dental implant treatment, you've got to be a good candidate for the operation. You'll have:
Good overall health
Gums in good condition
The ability to tolerate oral surgery without potential health risk
Your oral surgeon will be able to go through the process with you and assess if you're a good candidate for treatment.
Want to know more about implant treatment and whether it's right for you? Our surgeons are extensively trained in digital dental implantology and are actively involved in teaching dental implant surgery to other clinicians in NZ and overseas. We have a special interest in replacing function and aesthetics to edentulous patients (patients with no teeth). Get in touch, and we can help you out!